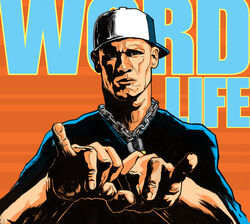 John Cena Presents:

"Basic Thuganomics vs. All Eyes on Me" John Cena vs. 2pac.
" U Can't See Me vs. The Time Is Now " 2pac vs. John Cena & Tha TradeMarc
"If It All Ended Tommorow vs. Paper Planes" John Cena vs. M.I.A
"Chain Gang Is In The Click vs. Justice" John Cena vs. Genesis
The next download content that people want to see is John cena Presents having Cena be put in DJ Hero.Cena's songs would perfectly be mixed as with 2pac, Jay-Z and other mixes with his own songs. John Cena Presents as songs from such as Basic Thuganomics, The Time Is Now, If It All Ended Tommorow, and Chain Gang In The Click would be featured in his setlist. Of Course we have some good mix ideas with John Cena and a cover for if they decide if they would have it.
Ad blocker interference detected!
Wikia is a free-to-use site that makes money from advertising. We have a modified experience for viewers using ad blockers

Wikia is not accessible if you've made further modifications. Remove the custom ad blocker rule(s) and the page will load as expected.