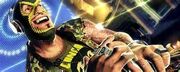 Jugglernort
is one of the fictional DJs playable in
DJ Hero
.
In-Game Biography
Edit
This ex-wrestling Mexican has done time behind bars for dishing out beats. Since then, he's learned to drop beats into bars, trading turnbuckle for turntable. The Jugglernort keeps his identity secret on stage, donning his old Luchador mask where he rolls. Renowned for his brutal beat-juggling abilities and ominous stage presence, his pile-driving mashups strike fear into the hearts of other DJs. Don't mistake this heavyweight crowd-pleaser for a gentle giant. If you cross him, you better beware the suplex.
Mask N' Casual
Mask N' Camo
Wrestlin' Hot Dog
Wrestlin' Stripes
Ad blocker interference detected!
Wikia is a free-to-use site that makes money from advertising. We have a modified experience for viewers using ad blockers

Wikia is not accessible if you've made further modifications. Remove the custom ad blocker rule(s) and the page will load as expected.