This article or section contains information about an unreleased video game.
The content may change dramatically as more information becomes available. Please do not add speculation to this article.
Guitar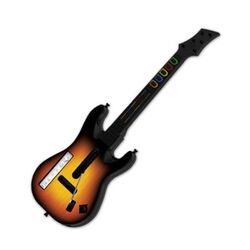 The Guitar will be an instrument that will be available for DJ Hero. The guitar is only used in selected songs. The guitar is designed for games like Guitar Hero, Rock Band and DJ Hero.
This is a list of songs that are available for the guitar:
"Sabotage" vs. "Monkey Wrench"
"Satisfaction" vs. "Boom Boom Pow"
Ad blocker interference detected!
Wikia is a free-to-use site that makes money from advertising. We have a modified experience for viewers using ad blockers

Wikia is not accessible if you've made further modifications. Remove the custom ad blocker rule(s) and the page will load as expected.