DJ Kid Itch
[[Image:|DJ Kid Itch|250px]]

DJ Kid Itch is one of the fictional playable characters in DJ Hero.
In-Game Biography
Edit
Nothing puts a smile on Itch Mitchell's face like the sound of a needle on wax. Back in the day, Itch found a dusty set of decks in an old warehouse. "Finders keepers" he chuckled as he snuck them into his parents' basement. Using his dad's record collection as fodder, he learned to remold the wax through scratching. Daylight-deprived, Itch practiced for hours on end in the basement perfecting his skills. Now at the age of 13, this precocious talent is storming the DMC scene, wowing crowds with his vicious brand of turntablism. The Kid is itching to do battle with other DJs, but are they up to his scratch?
Murky Trench
Black Trench
Bling Suit
Track Jewels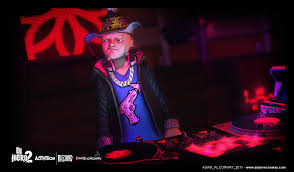 Ad blocker interference detected!
Wikia is a free-to-use site that makes money from advertising. We have a modified experience for viewers using ad blockers

Wikia is not accessible if you've made further modifications. Remove the custom ad blocker rule(s) and the page will load as expected.