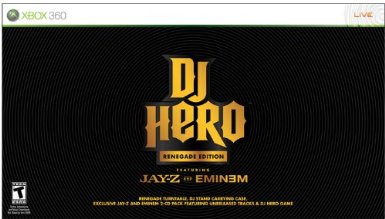 DJ Hero Renegade Edition Featuring Jay-Z and Eminem is a special edition limited time only video game released under the Dj Hero Franchise. The video game also comes with a album track from both artists released by both artists.
Song List
Edit
DJ Hero Renegade Edition Featuring Jay-Z and Eminem featured released and un-released tracks by both artists.
DJ Hero Renegade: Jay-Z
"Ain't No Nigga (featuring Foxy Brown)"
"Where I'm From"
"Hard Knock Life (Ghetto Anthem)"
"Jigga My Nigga (featuring Ruff Ryders)"
"I Just Wanna Love U (Give it 2 Me)"
"Izzo (H.O.V.A.)"
"03′ Bonnie & Clyde (featuring Beyoncé Knowles)"
"Dirt Off Your Shoulder"
"Show Me What You Got"
"Roc Boys (And the Winner Is…)"
"Brooklyn Go Hard (Featuring Santigold)"
"D.O.A. (Death of Auto Tune)"
Ad blocker interference detected!
Wikia is a free-to-use site that makes money from advertising. We have a modified experience for viewers using ad blockers

Wikia is not accessible if you've made further modifications. Remove the custom ad blocker rule(s) and the page will load as expected.